---
Readers like you help support TorqueDial. When you make a purchase using links on our site, we may earn an affiliate commission at no extra cost to you. All opinions remain ours. Read more.
---
Whether you're a speed freak looking to unleash more power from your engine or a tech-savvy driver looking to optimize your car's performance, there are several reasons to tune your car.
However, there are so many tuning programs that choosing a good one might be harder than finding a needle in a haystack.
Fortunately, we've done the heavy lifting for you and compiled a list of some of the best car tuning software programs for 2023. Read on to find the best one for you.
Product Title
Description
Description
A powerful and easy-to-use car tuning software for performing in-depth diagnostic checks and tuning your engine. It supports several car brands and models.
A live tuning software that offers comprehensive options for remapping any ECU. It can be purchased as a stand-alone program or as part of a system with other products.
A software that allows you to customize your vehicle and improve its performance and fuel economy. It lets you program racing presets directly into the vehicle's ECU.
A tuning software that is versatile, compatible with multiple car brands, and well-tailored to professionals. It has a swift reprogramming process.
A car tuning software that simplifies and automates the ECU remapping process. It is rich in calibration tools and user-friendly with illustrated guides.
Choosing the Best Car Tuning Software
Consider a few factors when selecting the best tuning software for your car. Here are some of them:
Key Features
When selecting a car tuning software, you should consider each package's specific features and capabilities. Look for software with features that align with your needs, whether for automotive diagnostics, improving fuel economy, or enhancing engine performance.
Additionally, consider the overall value, cost, and customer support offered by the software. This way, you can focus on the important features and make an informed decision.
Vehicle Support
Not all tuning software packages on the market will be compatible with your specific vehicle. So, pay attention to this when selecting a tuning software. Software with a broader compatibility range will give you more options and increase the chances of finding the right one for your vehicle.
Be sure to check the compatibility of the software with your vehicle's make, model, and year to ensure it works seamlessly with your car, and you can enjoy the full benefits of the tuning software.
Laptop Compatibility
Laptop compatibility is another important area to look at before buying a tuning software. Like other applications, the best car tuning software programs have a few specifications your laptop needs to meet to run them.
As a general guide, any PC with decent hardware—processor, RAM, and storage—should be able to install and launch these tools. However, if yours is on the low power end, see our review of the best laptops for tuning cars.
It's also worth noting that most available applications only work natively with Windows PCs. So, if you have a Macbook, you'll need to install a Windows emulator.
Strengths and Weaknesses
When researching a car tuning software, it's essential to understand each package's strengths and weaknesses clearly. A comprehensive pros and cons list will provide you with a transparent overview of each package's best and worst parts and help you identify which software aligns with your specific needs and preferences.
User-Friendliness
Not everyone is a car tuning expert. And that's what makes user-friendliness a crucial factor to consider when selecting tuning software for your car.
Evaluating the ease of use of each package can help you identify which tools are excellent for DIY enthusiasts and which are best left for professionals. So, consider the user-friendliness of the tuning package of your choice before buying it.
Now that you know what to look for in car tuning software, let's explore our top picks!
Best Car Tuning Software Overall: Toad Pro OBD2
TOAD stands for Total OBD Auto Diagnostics. The TOAD Pro OBD2 software is a comprehensive and user-friendly car tuning and diagnostics software for professional mechanics and DIY enthusiasts alike. It connects to your car's onboard computer system and provides real-time data on parameters like engine performance, emissions, and sensor readings.
The TOAD Pro OBD2 auto diagnostic tool can diagnose and fix issues in your car's engine and other electronic systems. It can also read and clear diagnostic trouble codes generated by the car's computer when it detects a fault or malfunction. Keep in mind that the software is limited to the engine and transmission. It doesn't support modifying ABS, SRS, brake, and airbag parameters.
The TOAD Pro OBD2 tool won't be on this list if it could only locate engine issues, though. In addition to diagnostics, it can reset your check engine light, monitor fuel efficiency, and carry out performance tuning. The best part is that the tool supports several OBD2 and even OBD1 protocols.
Vehicle and Location Support
Compatibility is hardly an issue here, as the software works with a wide range of vehicles. It supports almost all car models from most manufacturers except Chevrolet (Chevy), Dodge/Ram, GMC, Jeep, and Land Rover, where you need to check if your specific brand is supported before buying the software. See question one (Q1) under the Question and Answer section for information on how to do that.
For supported brands, TOAD compatibility goes back several years. For example, U.S. residents can use the tool for vehicles made or imported as far back as 1996. Meanwhile, support for Europe starts from 2001 for petrol cars and 2004 for diesel cars. In fact, pretty much every region is supported except Africa. See the full compatibility details here.
Laptop and OS support
Like most OBD software applications, TOAD only natively supports Windows laptops (XP, Vista, 7, 8, 10, and 11+). However, if you own a Macbook, you'll need to install Windows on it using Boot Camp or Virtual machine. Meanwhile, Linux is not supported at all. Supported languages include English, French, Spanish, Italian, German, Dutch, Czech, Portuguese, Greek, Polish, and Serbian.
Overall, TOAD Pro OBD2 is a powerful and versatile tool for diagnosing and fixing issues in a car's electronic systems. It only requires a computer and a tuning kit to get started.
Best Car Tuning Software Overall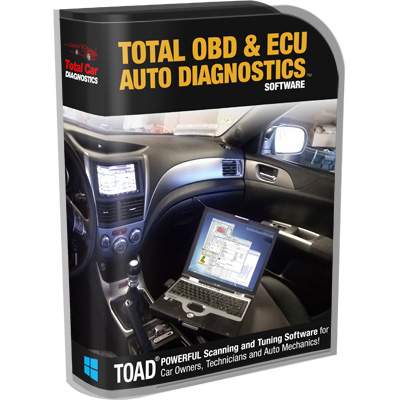 A powerful and easy-to-use car tuning software for performing in-depth diagnostic checks and tuning your engine. It supports several car brands and models.
Pros
Compatible with both OBD1 and OBD2 vehicles
Easy to navigate and use
Supports chip tuning
Lets you view live data in a customizable dashboard
Reads and clears engine and transmission error codes
Cons
Lacks support for ABS, SRS, brakes, or airbags
No native Mac or Linux support
Best Live Car Tuning Software: Viezu K-Suite
The Viezu K-Suite is the best software for live tuning and remapping any ECU. It comes with two powerful car tuning programs, the KESS and K-TAG, which provide comprehensive tuning options. The KESS program is more advanced and offers more features, but it can be tricky. On the other hand, the K-TAG program provides a more user-friendly guided programming experience.
The main window of the Viezu K-Suite includes a Vehicle List and Protocol list that serve as helpful references for tuning. The Protocol List gives you all the information you need about the ECU, including the accessories you'll need to tune it. The Vehicle List shows all the supported vehicles and makes specific tuning suggestions.
The Viezu K-Suite also allows owners to make simple changes to the exhaust system of their vehicles. It is available as a stand-alone program that can be downloaded and installed onto your computer or as part of a system that includes other products such as mufflers, filters, gauges, fuel systems, and others. With its live tuning capabilities, user-friendly interface, and comprehensive options, the Viezu K-Suite is a top choice for those looking to enhance their vehicle's performance.
Pros
Includes both KESS and K-TAG
Explicitly developed for performance tuning
Offers superior customer service and tech
Updates are automatic and free
All software is written in-house
Option to purchase a complete kit with adapter and hardware
Cons
It only supports Windows (no Apple compatibility)
Using advanced options can be complicated
Best Car Tuning Software for Fuel Calculation: MaxxECU MTune
MaxxECU MTune is a powerful tuning and car diagnostic software that allows you to customize your vehicle based on the existing design. With its wide range of tools, you can add custom wheels, tires, fenders, vents, spoilers, wings, front-end kits, and more. In addition, you can improve your vehicle's fuel economy by adding performance chips such as special lights and air intakes. This software offers several models based on your needs, including sport, economy, and custom models, which cover a wide range of cars.
One of the critical features of MaxxECU MTune is its ability to calculate your vehicle's fuel consumption accurately. The software allows gearheads to download and program presets directly into their vehicle ECU, giving you instant access to an extensive database of performance and racing tuning specs for popular "tuner" cars. The software can be easily downloaded and installed on your computer, and you can start tweaking your vehicle's performance and fuel economy right away.
In short, MaxxECU MTune is a versatile software that offers a wide range of tools for customizing your vehicle and improving its fuel economy. In addition, the software's ability to program presets directly into the vehicle's ECU, giving you instant access to an extensive database of performance and racing tuning specs for popular "tuner" cars, makes it one of the best tuning software programs out there.
Pros
ECU editing and programming
Live tuning and local autotune
2D & 3D tuning graph display modes
Free regular software updates
Full access to a vast library of tuning presets for many makes and models
Cons
More emphasis on tuning than diagnosis and troubleshooting
Not suitable for those looking to improve fuel economy via an ECU update
Downloadable tuning presets database lacks strict guidelines on who can post tunings or vet existing tunings
Best Car Tuning Software for Many ECUs: EcuTek
EcuTek's car tuning software is a powerful tool that allows professionals to optimize their vehicle's performance. It is compatible with several car manufacturers, including Honda, BMW, and Ford, and supports many Engine Control Units (ECUs) within each brand. This means that the software can be used on various vehicles from these manufacturers, making it a versatile option.
One of the main advantages of using EcuTek's software is its fast and efficient tuning process. With this software, you can reprogram your vehicle's ECU in less than a minute, saving you significant time. However, it's worth noting that this software is designed for professionals and those with a certain level of knowledge. Hence, beginners may need help navigating the software's interface and understanding the various options and settings.
The software comes with a range of features that can help you gain insights into your vehicle's performance. These include real-time data logging, which allows you to monitor various parameters of your vehicle, and preset options that help you fine-tune your car to your desired level of performance. Additionally, the software ensures compatibility and safety by using OEM (Original Equipment Manufacturer) readings and retaining safety features of modified parameters.
Overall, EcuTek's car tuning software is a great option for professionals looking to make the most out of their vehicle's ECUs. It offers a wide range of features and compatibility, and its fast and efficient tuning process makes it a powerful tool for optimizing your vehicle's performance. Nonetheless, beginners may need help navigating the software.
Pros
High-speed data logging
Has detailed map definitions
Robust tuning features
Wireless connectivity via Bluetooth
Works with mobile and PC operating systems
Cons
Not for beginners
Creating your own tuning specs has a steeper learning curve
Best Car Tuning Software for Calibration Tools: PrecisionCodeWorks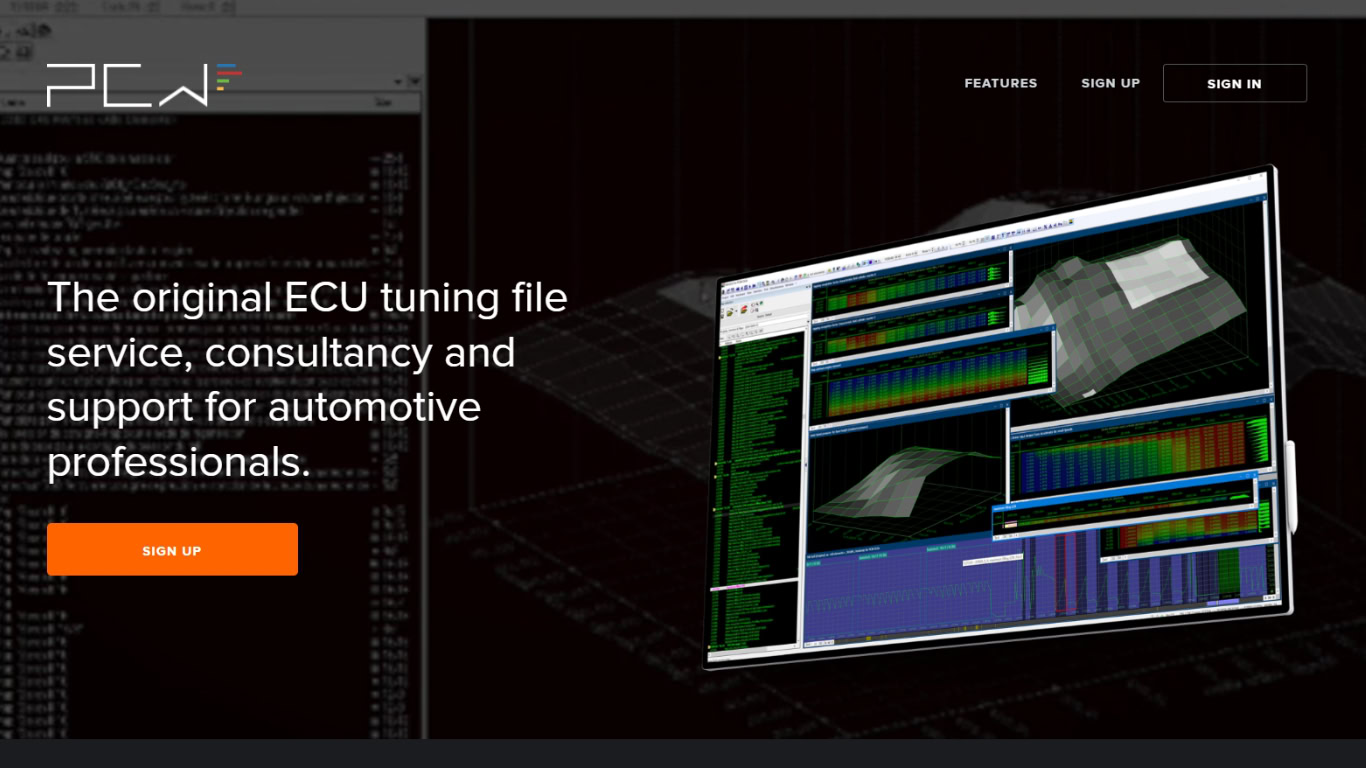 PrecisionCodeWorks is a car tuning software that makes the ECU remapping process easy and automated. It's a great option for those who lack the time or knowledge to code the computer themselves. It comes with multiple calibration tools for optimizing horsepower, power, torque, transmission, and even suspension-enhancing devices such as fuel management and emission monitoring systems.
The software is user-friendly, with illustrated guides that make it easy to understand the process. However, it works on a credit system, which may not be cost-effective if you work with multiple vehicles. Additionally, you're limited to the build options PrecisionCodeWorks offers and don't have the freedom to manipulate the tables.
PrecisionCodeWorks is a great option for hobbyists who want to manage their tasks efficiently. It gives you less freedom, but there's also less worry that you'll mess up the ECU. However, professionals may consider other options as they have some limitations and may need to be more cost-effective.
Pros
Automatic ECU remapping process
Modifies EGT and DPF systems
Includes a custom fuel-tuning platform
Comes with a Wiki database and protocol lookup
Cons
Not for beginners
Creating your own tuning specs has a steeper learning curve
Best Car Tuning Software: Takeaway
ECU tuning or chip tuning is one of the simplest ways to unlock your vehicle's hidden potential without changing or even touching any hardware components. And choosing the right car tuning software is crucial for the process.
The tools highlighted in this article are some of the best in the market, with unique features and capabilities to help you improve the performance, handling, and overall driving experience of your car.
If you're not sure how to get started, check out our beginners guide to tuning your car with a laptop.
FAQs
Can I Remap My ECU Myself?
Yes, you can remap your ECU, but remember that it is a delicate and complicated process. If you don't know what you're doing, you can cause severe and irreversible damage. However, with the right tools, such as a good tuning laptop and a good understanding of engine coding and programming, you can pull it off. Just remember to proceed cautiously and follow proper guidance, such as vehicle-specific guides, to ensure a safe and successful ECU remapping process.
How Do You Learn ECU Tuning?
Learning ECU tuning requires a good understanding of basic automotive systems and how changing specific parameters affects performance. This knowledge can be obtained through various online resources and tutorials on many websites, including popular video platforms like YouTube and Vimeo. However, if you're looking for a simpler and more streamlined approach, our complete guide on how to tune a car as a beginner can help you bypass the stressful learning process.
What Areas Can a Car Tuning Software Modify?
Car tuning software can modify various areas of a vehicle to improve its performance, handling, and overall driving experience. The most common areas that are modified include the fuel system, intake and exhaust system, transmission and gearbox, suspension, tires, and sound system.
The fuel system is the main area modified during performance tuning, where adjustments can be made to ignition timing and fuel injection to increase power from the engine. Additionally, the air-to-fuel ratio can also be optimized.
Upgrading the intake and exhaust system can increase horsepower by improving the flow of air into the engine. In addition, the transmission and gearbox can be modified with "short-shift" modifications to improve acceleration, horsepower, torque, and fuel efficiency.
Modifying suspension components such as springs, anti-roll bars, shock absorbers, and other suspension components can change how your vehicle handles rough roads and improve handling and response. Changing the tire size can also affect the car's handling and change the distance between the undercarriage and the road.
Finally, not all tuning involves the engine. For example, some of the most common areas modified in vehicles are the audio system. Upgrading the sound system with new speakers, subwoofers, and amplifiers can improve sound quality and volume output.