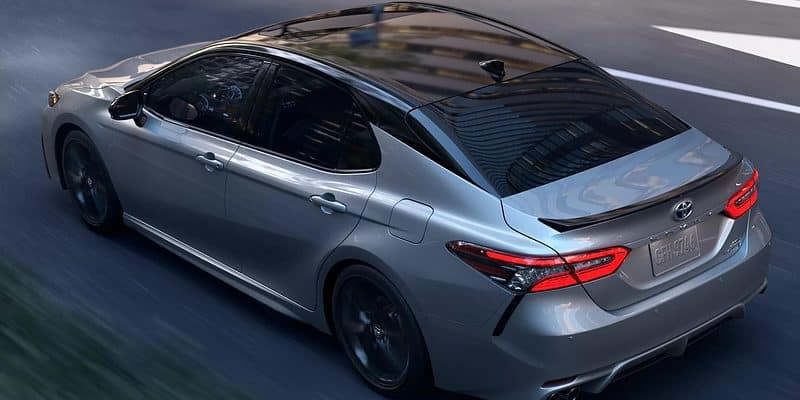 Toyota has a long history of making safe vehicles, and the highly popular Camry is no exception. It comes with various safety features, including Toyota Safety Sense, a system that includes multiple advanced safety features to help you avoid accidents. This blog post will look at the Toyota Camry's excellent safety ratings from organizations like the IIHS and NHTSA and the features that enable it to achieve such results.
Award-Winning Crash Test Scores Going Back Years
The Insurance Institute for Highway Safety (IIHS) and the National Highway Traffic Safety Administration (NHTSA) are well-known U.S. agencies that test the safety of cars. And it's safe to say that the Camry has not disappointed any of them for years.
For the past decade (2012 to 2022), the Camry has achieved an overall five-star rating from NHTSA — the highest attainable. Similarly, Camrys from 2015 to 2022 received the IIHS's highest safety award possible, the top safety pick plus for the mid-size class. This accolade is reserved for vehicles that achieve the highest safety rating of "good" in every crash-test category. But older model years are no slouches either, with 2012 to 2014 Camrys getting the IIHS top safety pick award.
Robust Suite of Smart Safety Features
Standardized tests (and subsequent ratings) by organizations like the NHTSA and IIHS are great for assessing the degree of safety of a car. But an alternative approach is to look at the safety features the manufacturer bundles with the vehicle — standard and optional alike.
Toyota is well known for taking vehicle safety extremely seriously. And the Camry is no exception, with newer models coming with even more smart protection than the last.
Standard safety features on most 2022 Toyota Camry trim levels include:
Ten airbags
Side-impact door beams
Traction control
An anti-lock brake system
Three-point seatbelts (with emergency locking retractor) for all seating positions
Some trims offer optional add-ons like blind-spot monitoring, rear cross-traffic alert, and an integrated backup camera (with dynamic gridlines).
However, one of the most elaborate safety systems on the Camry is the Toyota Safety Sense, and we'll be looking at it next.
Toyota Camry Safety Sense
Toyota Safety Sense is a system of advanced safety features that comes standard on Toyota vehicles such as the Camry. It debuted in 2015 with Safety Sense C (TSS-C) and Safety Sense P (TSS-P), becoming one of the first driver-assist systems on the road. It combines cameras, radar, and lasers to help drivers avoid hazards.
Toyota Safety Sense Features
The system includes multiple smart features. While some are absent on older versions like TSS-C, they're all present on newer models like TSS-2.5+. These safety systems include:
1. Automatic high beams that use a camera on your windshield to assist nighttime driving. The camera detects headlights and taillights on other vehicles.
2. Pre-collision system with pedestrian detection (or bicyclist detection) that uses an integrated camera and radar system to reduce the likelihood of colliding with a vehicle or pedestrian.
3. Dynamic radar cruise control (also available with Full-Speed Range Dynamic Radar Cruise Control) uses a radar behind the Toyota badge and the camera on the windshield to change your speed and maintain a safe distance from the vehicle in front of you.
4. Lane departure alert (also available with steering assist and road edge detection) mitigates unintended lane departure by alerting you when your vehicle starts veering off the lane.
5. Lane tracing assist works with the full-speed range DRCC and lane markers to keep your vehicle centered in its lane.
6. Road sign assist works with the forward-facing intelligent camera to detect speed limit, stop, do not enter, and yield road signs, displaying them on the multi-information display.
Currently, there are four versions of Toyota Safety Sense: TSS 2.5+, TSS-2.0, TSS-P, and TSS-C. Let's take a look at each one.
Toyota Safety Sense 2.5+ (TSS-2.5+)
Toyota Safety Sense 2.5+ (TSS-2.5+) is the newest Toyota safety system. It's currently available on select Toyota cars like the 2021 and 2022 Toyota Camrys and Highlanders. It builds on the Toyota Safety Sense 2.0 (TSS-2.0) features by replacing the cameras, millimeter-wave radars, and grille-mounted radars with new ones for improved response range and enhanced pedestrian detection. It also includes emergency steering assist to help drivers stabilize maneuvers while avoiding another vehicle, pedestrian, or object in their lane.
Toyota Safety Sense 2.0 (TSS-2.0)
Currently, Toyota Safety Sense 2.0 (TSS-2.0) is the most common Toyota Safety Sense system. It's a step above Toyota Safety Sense C and Toyota Safety Sense P, and it focuses on three key areas for accident protection:
Preventing or mitigating frontal collisions
Keeping drivers within their lane
Enhancing road safety during nighttime driving
It also incorporates a camera, a millimeter-wave radar, and a grille-mounted radar to monitor a vehicle's surroundings.
Toyota Safety Sense P (TSS-P)
Toyota Safety Sense P (TSS-P) was released with Toyota Safety Sense C (TSS-C) in 2015. It's available on mid-size and large Toyota vehicles like the RAV4 and Sienna. TSS-P features a camera and millimeter-wave radar at the front of your car to detect other vehicles (including smaller ones like motorcycles or bikes). It also includes pedestrian detection, steering assist, and DRCC on some Toyota models.
Toyota Safety Sense C (TSS-C)
Toyota Safety Sense C (TSS-C) features include a pre-collision system with vehicle detection, lane departure alert, and automatic high beams. It was built for compact Toyota vehicles like the Corolla, offering a camera and laser radar at the front to monitor other cars on the road. However, Toyota vehicles from 2018 and newer no longer use this system.
The Camry Is Right Up There With the Safest Vehicles on the Road
The Toyota Camry is an excellent option if you're looking for a safe car. With safety features such as the Toyota Safety Sense, it's one of the safest cars on the road today. And it backs it up with multiple NHTSA five-star ratings and IIHS top safety pick plus awards over the years.