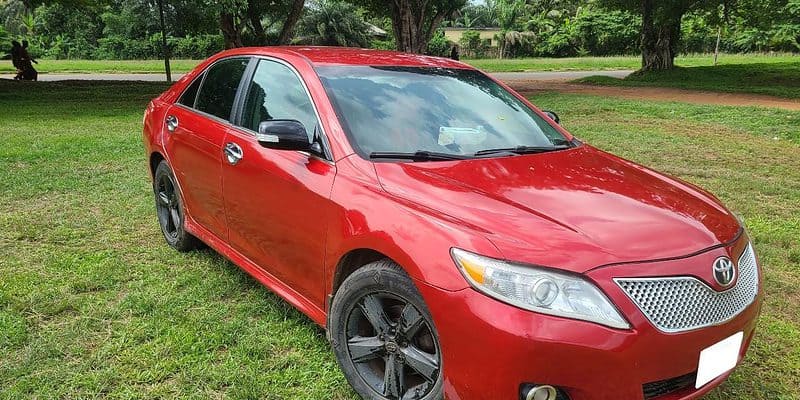 After saving enough, I considered getting a used sixth-generation Camry (2007–2011). Ideally, I would have gone to a dealer to make my pick from several options, but my mind wasn't made up at the time. That changed as soon as I got in touch with a friend who — stay with me — knew someone who knew someone that had a 2009 Camry model for sale.
This particular car had over 150,000 miles on the odometer. And considering it was manufactured some 13 years ago, it isn't the newest or most stylish car on the market — heck, it's not even the newest used car available. However, within a few days of contact, I inspected the car on two occasions, with the second including a trip to my family's auto mechanic. Less than a week later, I was signing ownership transfer documents.
Believe me, I didn't go out searching for a vehicle with half its useful life already gone, but I knew this was the one the moment I saw it. Here's why.
The Perfect Camry Trim for an Enthusiast
The new sixth-gen Camry debuted in 2007 completely redesigned inside and out, getting a roomier interior, more luxury features, an optional 268-hp V6 engine (with a six-speed automatic transmission), and a hybrid model boasting 43/37 mpg city/highway. And the 2009 model carried on with all that good stuff. But with the Camry being a little tame, the XSE not arriving until 2015, and the TRD only debuting in 2020, the SE was the model that gave you that faintest sense of adrenaline rush.
So, it was a plus knowing that I could potentially take home the keys to an SE. That said, the model I got uses the 158-horsepower 2.4-liter inline-four and not the V6. But it's still a powerful engine, and I enjoy the mileage benefits. However, what I love most about the SE is its aggressive exterior design, sport-tuned suspension, and 17-inch alloy wheels. It's a proper enthusiast car.
An Exterior Clean Enough To Turn Heads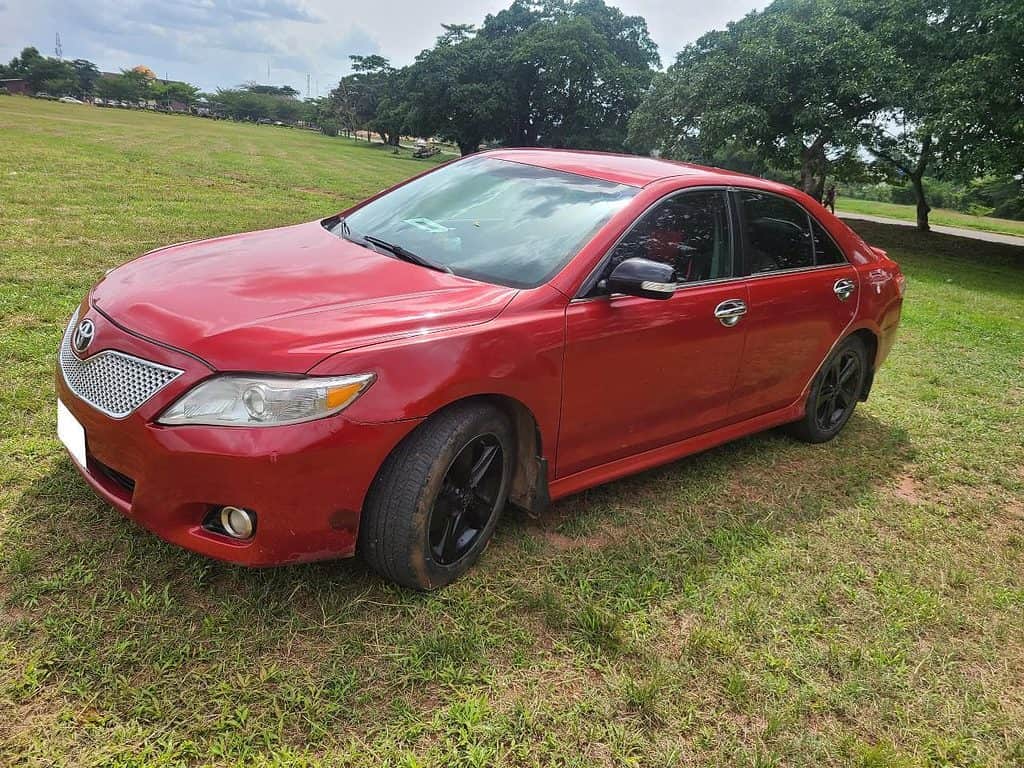 I have to admit that I'm a sucker for good-looking cars. So when I went to inspect the vehicle and saw it cooling off under the shade of an almond tree in an open park in all its red glory, I knew I had to have it. The intact exterior appearance made me consider it more, but the custom black-sprayed wheels definitely caressed my heart into making the final decision.
How often do you see a used vehicle in such a bad condition (dents, chipped paint, etc.) that you go, "nah, that's a big no?" Not this Camry, though. No matter the direction from which I look at it (front, rear, or top), I feel like I made the right choice. It turns my head every time, and you bet it draws looks from outsiders too.
It's not perfect, though. If you look close enough (like I've been doing for a good part of two months), you'd find areas that need a little work. We'll get to those in a moment.
Interior Accessories You'd Love To Have
Coming toward the car from a distance, I was already happy with the exterior. But I still had to see the inside.
Normally, you don't go in expecting anything much besides the stock items — if anything, you're really just checking for any signs of misuse. So, when I saw the car's interior, I was sold.
It looked quite luxurious for a 2009 Camry SE. The previous owner replaced the archaic stereo with a modern-looking head unit supporting Android Auto, Bluetooth, and Wi-Fi. He also put niceties such as a dashboard cover, a diffuser to keep the interior smelling nice, and red-accented accessories like foot mats and seat covers — they were all going with the car.
Agreed, these are relatively inexpensive items, but they add to your spending cost nonetheless. So to find such high-quality accessories already present was great — it saved me time, money, and a trip to the store. It's the little details that make all the difference, right?
Very Few Obvious Problems To Fix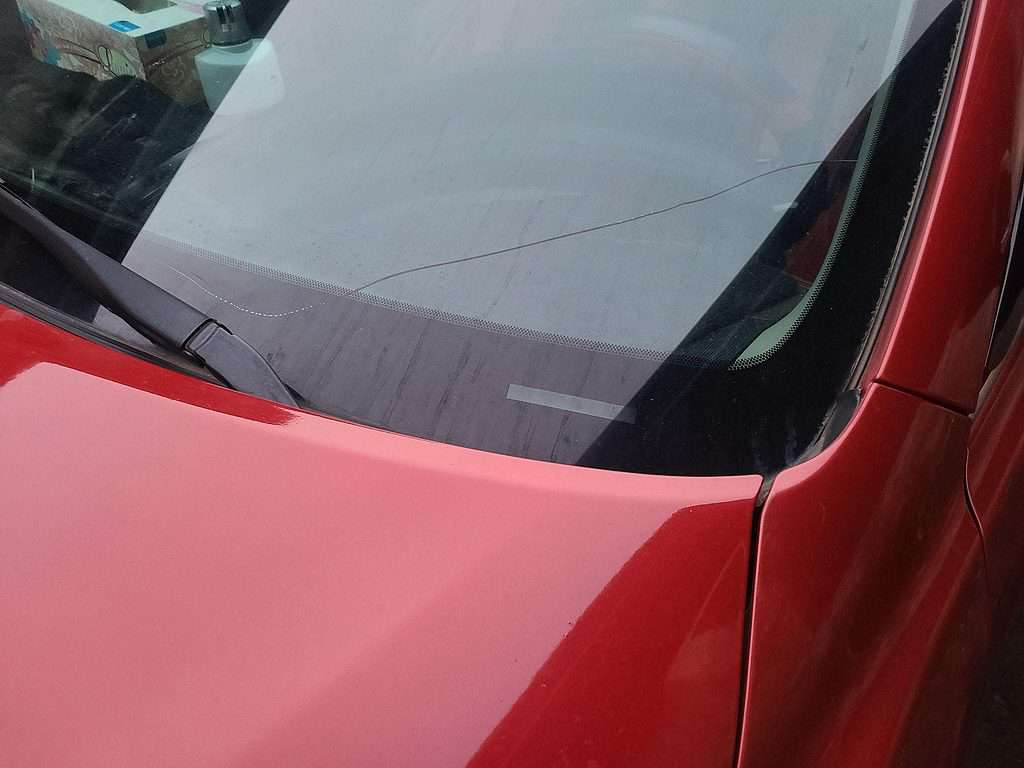 It's rare to find a used car that doesn't have some problems, but that's fine, provided they're not major issues or related to the engine or transmission. So when I found this 2009 Camry SE with as few issues as possible, I knew I had to jump on it. The previous owner took good care of it, and it shows. The engine and transmission are sound, and the interior and exterior are just as I already mentioned.
The only issues are a crack line on a section of the windshield, minor scratches on the right rear-wheel fender, a little crack on the left side of the rear bumper, and a windshield washer fluid that doesn't work. There's also the melting dashboard, but that's a common problem with 2007–2011 Camrys and Camry Hybrids — besides that dash cover hides the existing damage pretty well and protects it from further damage.
A Price Too Good To Be True
Let's not misunderstand here. I'd take a newer Camry over an older one any day, even if it's just a one-year difference. But newer models (even if used) cost tens of thousands of dollars, which was way beyond my budget. So, I had to settle for something less expensive.
Even then, the cost of this 2009 Camry was pretty much a steal. The seller's asking price was $6,400, and I managed to beat it down to $5,550 after much bargaining. For perspective, the average cost of a used 2009 Camry with over 100k miles is $9,800 on Edmunds.
But you know what they say, "if it's too good to be true, it probably is." So, I had to find out why the owner was selling the car. After all, it's not uncommon for people to try to sell off their vehicles when they start having a series of problems. After much research, I found out that the owner was still in love with his Camry but felt it was time for something newer and bigger.
If there's ever a good reason to sell a car, that's it right there. So I grabbed the opportunity with both hands and went for it.
At the End of the Day, It's a Toyota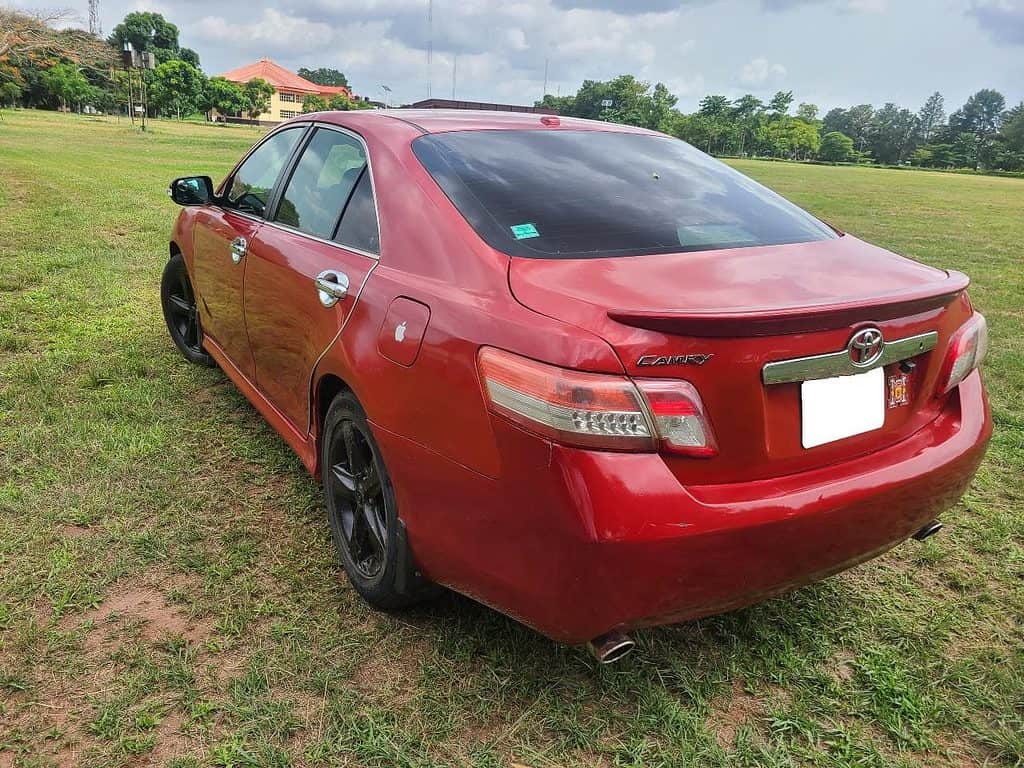 There are many reasons to buy a used car — a limited budget is one of the most common ones. But what makes you choose a particular vehicle? For me (and my 2009 Camry), it was the clean exterior, added interior accessories, and perfect trim level. Plus, it was still sound overall.
Admittedly, a 2009 Camry is pretty old for a 2022 car purchase, especially when it has over 150,000 miles on it. But if there's a vehicle to buy used and with so much distance already covered, it's a Toyota. The company is well known for its durability and longevity, with many of its cars capable of reaching 300,000 miles and beyond — the Camry is no exception.